Behavioral Health Services in Fairfax & Richmond
Learn More About What U.S. Care Behavioral Health Can Do for You and Your Family
Live a Healthy, Productive, and Meaningful Life
At U.S. Care Behavioral Health, we believe that anyone who has a mental illness or substance abuse issue can live a healthy, productive, and meaningful life. We are committed to providing a variety of behavioral health services, including outpatient therapy, mental health skill-building, supervised visitation, and more. If you're interested in learning more about how we can help you, your family, or a loved one, get in touch with one of our licensed mental health professionals today by contacting our Fairfax or Richmond office today.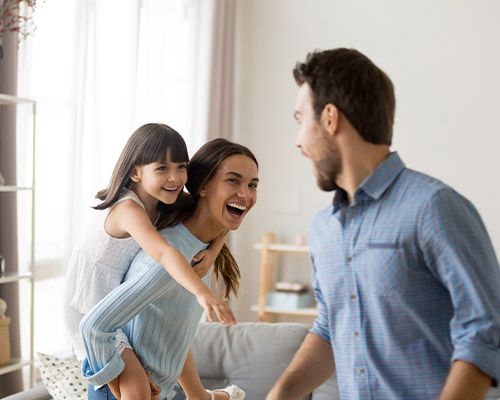 U.S. Care Behavioral Health Provides Support for:
Mental illness
Substance abuse
At-risk children
Familial support
And more
We offer outpatient therapy for adults, children, and adolescents to improve behavior and functioning, reduce symptoms, and increase coping skills.
Our mental health skill-building provides goal-directed training to enable adults 18 years or older with significant psychiatric functional limitations to ensure clients achieve and maintain independence and community stability.
We provide intensive in-home services for children and adolescents at risk of an out-of-home placement or are transitioning back home after an out-of-home placement.
We offer short-term, time-limited care, supervision, and support to youth for the purpose of providing relief to the primary caregiver while supporting the emotional, physical, and mental well-being of the youth and the family/guardian.
Our in-home and community-based services are designed to help families develop the skills necessary to remain together.
We offer two distinct services to support reunification and/or familial contact while maintaining the safety of children and youth.
Mentoring matches school-age children and teenagers with trained adults to provide a one-on-one relationship with a positive role model, decrease isolation, improve social skills, and provide academic supervision.
We provide court related Driving Under the Influence (DUI) and Driving While Impaired (DWI) services in Fairfax and Richmond areas. Whether it's your first offense or you have multiple, our courses are designed to help you fill any court orders and get back on your feet.
Serving Families and Individuals for More Than 7 Years
Since 2013, our experienced and highly-trained staff of behavioral health professionals has been providing in-home, outpatient, and group behavioral services to children, adolescents, and adults Central and Northern Virginia.

Virginia Medicaid Insurers We Accept:
Anthem HealthKeepers Plus (CCCP)
Aetna Better Health of Virginia (CCCP)
Magellan Complete Care of Virginia (CCCP)
Magellan Behavioral Health of Virginia (FFS)
Sentara - Optima Health (CCCP)
United Healthcare - Optum (CCCP)
Virginia Premier Elite Plus (CCCP)
Private Insurance We Accept:
Anthem BlueCross BlueShield
CareFirst
Children's Services Act (CSA) Regions:
Fairfax-Falls Church
Rappahannock
Self-Pay:
All major credit cards
Cash via bank ACH or wire transfer
*Checks are not accepted
Request Services from U.S. Care Behavioral Health Today
Our team of behavioral health specialists at U.S. Care Behavioral Health is here to give you the support, coaching, and treatment you or your family may need. Get in touch with us today or talk to your family case manager at the Department of Family Services to learn more about the services we provide.
General Questions
For general questions, please fill out the "Contact Us Today" information below or call us at 888-978-3801 and press 0.